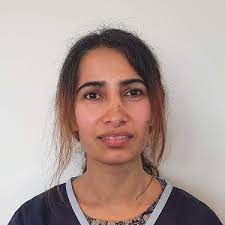 Hajara obtained a Bachelor of Science (BSc) degree in Immunology and Pharmacology prior to acquiring her Bachelor of Dental Surgery degree (BDS) from The University of Dundee, UK in 2007. She completed her vocational training year before moving to the Community Dental Service where she worked as a Dental Officer for several years. This opportunity provided her with an excellent foundation in developing her clinical skills as she spent time with various specialists gaining confidence in all aspects of dentistry.
Hajara subsequently moved to general practice where she provided both NHS and private dental care in Scotland. More recently, she has worked in Christchurch at the CDHB as a Senior Dental Officer where she was responsible for treating special needs patients and those with complex medical histories.
Hajara enjoys all aspects of dentistry but has a particular interest in extractions, endodontics and treating phobic patients. She finds her job immensely rewarding and gains huge satisfaction in helping her patients improve their oral health and smile.
Hajara is a fluent speaker of Urdu, Hindi and Punjabi.
Outside of dentistry, Hajara enjoys travelling, hill walking and spending time with her family.