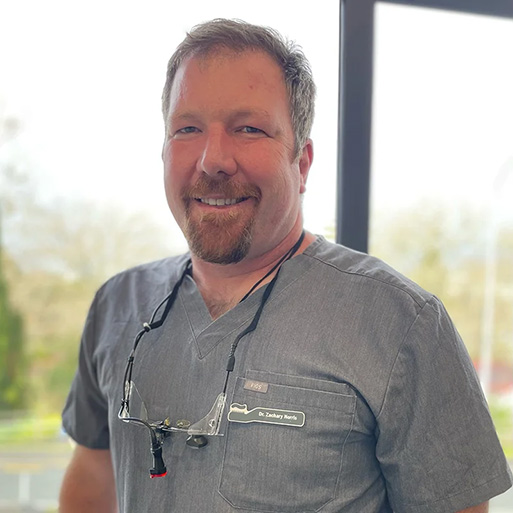 After completing his Bachelor of Arts (BA) degree in Geography in 2001, Zak graduated from the University at Buffalo, USA with his Doctor of Dental Surgery (DDS) degree in 2009.

Zak owned an award-winning dental practice in Oak Harbor, USA for 8 years before relocating to Whangaparāoa in 2022 with his wife and 2 kids.

Zak's philosophy is always 'patient first'. His focus is to get patients out of pain, cure any disease and then help patients achieve the aesthetics they desire. He enjoys all aspects of general dentistry and is excited to learn new techniques and approaches.
What made you decide to get into dentistry as a career?
Dentistry is the perfect balance of being able to help people feel good both mentally and physically. I love to be a key part of achieving those goals.
How long have you been practising dentistry?
I saw my first patient in 2005.
Tell us about your career background.
I practiced in a group clinic for 5 years providing a full spectrum of services from emergency care to comprehensive dentistry.
In 2014 I purchased a small failing clinic and built it up to a 5 chair practice. We were awarded "Best General Dentist" in our community 4 years in a row.
What is your most memorable case to date?
It's tough to decide. One patient developed a progressive oral cancer that made just talking uncomfortable and the celebration when we were able to get her into an implant-supported set of teeth and eat her first steak was massive. Another patient with a history of addiction resulting in meth mouth. With her new self and behaviour, we were able to give her a smile to smile about.
What do you love most about your job?
Patient connections and the ability to help change someone's day, life or attitude.
What are your special interests in dentistry?
I am interested in all aspect of dentistry, I love implants and crowns, but the artistic components of just a filling makes me smile every time.
What is the main piece of advice you give your patients?
Prevention, prevention, prevention. Brush, floss, sports mouthguards, routine visits to the dentist and hygienist, be mindful.
Where would we find you outside of the practice?
On or in the water. I love fishing, racing sailboats, board and wave sports, and just splashing around.
Some of his past Reviews ⭐⭐⭐⭐⭐
"Not only is Dr. Norris very responsive and pleasant to work with, his office staff is *exceptional*. Very helpful, great customer service experience."
"Dr. Norris is a superb dentist and a very thoughtful person. I have only admiration and wish for his continued practice."
"I have been a patient at Dr. Norris for two years and it's always a pleasure. He is so friendly and personable. Highly recommend!"
"I've been seeing Dr. Norris & his staff for about 5 years now & Always enjoy going to get my teeth cleaned. The staff are so nice & kind & Dr. Norris is always ready to help you have the Best smile possible without costing a ton of money."
"My husband and I are new patients with Dr. Norris. The entire experience was great. The office staff, and hygienists were very friendly! Dr. Norris was very thorough, and really took a lot of time with us.. Higher recommend them!"